News
Long distance overnight Sail-Aways and Regatta programme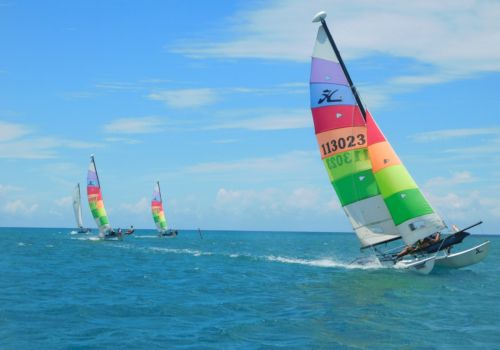 As you bid farewell to summer-only members at the sailing club or sadly pack away the dinghy for the year: are you dreaming of a turquoise ocean and surfing down tropical waves with the spinnaker in full flight?
Is a sunny winter adventure calling out your name?
Harnessing the spirit of adventure, and going back to the roots of Hobie sailing, we've introduced a new long distance sail or 'Raid' as the French fans of these so affectionately call them. These will take you on a spectacular 25 km expedition on the Indian Ocean to the uninhabited nature reserve of the Ile d'Ambre to the east of Mauritius.
Once ashore on your beach paradise the team will prepare an evening BBQ as you cast aside the buoyancy aid and harness and settle in to watch the sunset. As night falls and the camp fire flickers you will be able to choose to stay overnight in tents or under the stars: and what a spectacle awaits you. Mauritius is hailed as the world's leading destination for stargazing and has long attracted astronomers and enthusiasts. With no light pollution and white sand this is the perfect spot to watch as the Southern Hemisphere sky takes centre stage.
The less bohemian can travel back to the hotel by rib and taxi and return the following morning to sail the 25 kms back to base. The Ile d'Ambre offers five kms of secluded, well maintained nature trails meandering through forests, lakes and ruins for you to explore. The trip will happen twice a month and when we have a minimum of three boats wanting to take part and the weather conditions are favourable.
We also have more frequent Sail-Aways each week: one to Grand Bai with lunch at the Beach Cub and the other to Baie du Tombeau with a picnic on the beach. All those huddled by the radiator in the clubhouse read and weep!
We're organising some bigger regattas for more experienced guests in which top sailors from the Mauritian Sailing Association and other local sailors will take part. The racing will be divided into a large fleet of over 20 Lasers, as well as the multihulls and other dinghies racing under a handicap system. Prizes include cups, medals and, perhaps more importantly, a bottle of famous Mauritian rum!
16th November 2019 race season kicks off
28th December 2019 The Great New Year Regatta
29th February 2020 The Red Bull Regatta
11th April 2020 The Golden Egg Easter Regatta