An unforgettable sailing holiday in a truly magical location
Blessed with golden tropical sunshine, white sandy beaches and exquisite turquoise waters, the gorgeous island of Mauritius is the ideal location for a sailing holiday. As Yachts & Yachting say 'a year-round destination which is perfect for a winter escape'. You've been dreaming of this tropical paradise – why not turn it into a wonderful reality?
Whether you're an experienced sailor looking for an exhilarating sail-away exploring offshore islands or you're a complete novice looking to learn the ropes, our team of friendly and professional instructors is here to guarantee you an experience you'll never forget! On top of that, we offer optional adventures to make the most of your holiday in this small but exquisite island in the middle of the Indian Ocean.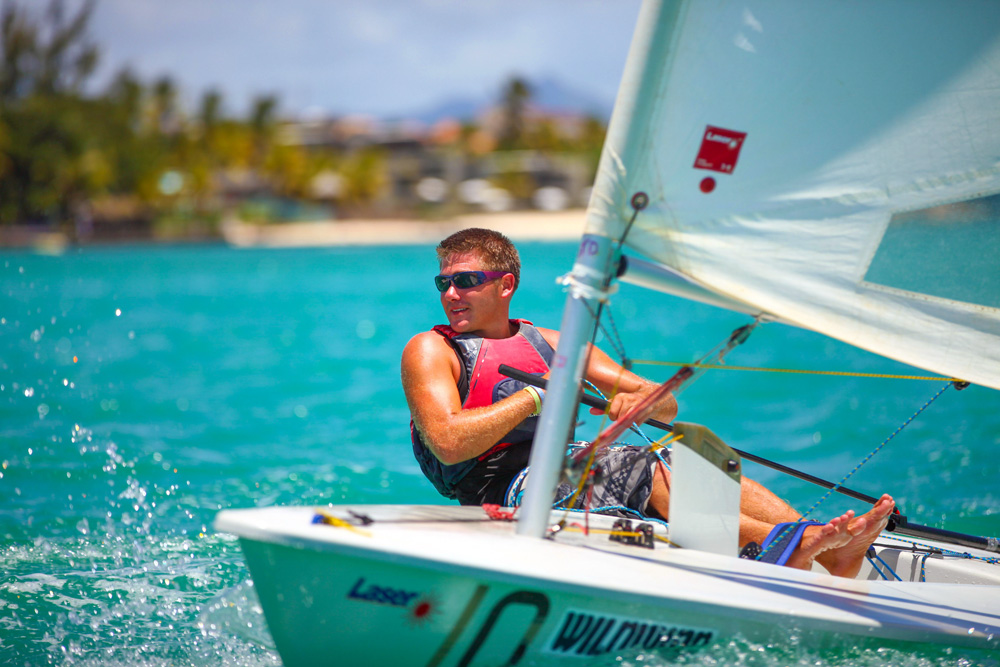 Perfect sailing conditions all year long
There are two distinct sailing areas. The lagoon right in front of the hotel is calm and safe for novices to practice their sailing skills. Venture just outside the reef and you'll find stronger winds and rolling waves that allow you to blast away in controlled sessions at sea. The more adventurous can join our day long sail-aways in which we explore the smaller, exotic islands nearby or our new two-day 50 km 'raid' sails to the Ile d'Ambre with an overnight stay.
Fantastic boats – no waiting
Our wide range of dinghies and catamarans beckons you on the beach, fully rigged and ready to go. Our client to boat ratio means you never need to wait as there is always ample gear for everyone: there are 10 single hander boats and 10 for two or more for our maximum 20 clients a week.
Great instructors
Our experienced, RYA qualified staff are always on hand, on and off the water, guaranteeing the highest standards of professional instruction and safety. Everyone who works with us is dedicated to sharing their passion, knowledge and enthusiasm in a friendly and approachable way. Instruction is tailored to your needs. To facilitate this the instructor to client ratio is 1 to 4.
Your accommodation right on the beach - in paradise
Located right on the beach with spectacular ocean views we are based at the Coral Azur hotel. Birdsong and the lapping waves of the Indian Ocean provide the relaxing soundtrack for your holiday. All rooms have private balconies, are sea facing and have either direct views of the ocean or through palm trees and magnificent sunsets to remember forever. The restaurants and pools are by the beach. The hotel is well known for its excellent and personal service.
Swimming with dolphins, scuba-diving, sea-kayaking and other adventures
Some of our clients spend all their holiday sailing - which you're welcome to do – while others explore this unique island. Discover the abundant underwater life on a tropical scuba diving session or by going out on a glass bottom boat. Go tropical kite surfing or swim with wild dolphins. Join a large catamaran cruise, take a kayak out to sea or travel around the island to visit its most historically and culturally significant sites. See the list of all the options on our Adventures page.
How to reach Mauritius?
The peaceful country of Mauritius lies in the middle of the Indian Ocean, between the south of India and East coast of Africa. Flights from the North of Europe are around 12 hours (if direct) and a one week's stay based on half-board, including our programme of activities, equipment, instruction and a number of optional adventures starts at €1160 per person.
So, while most of Europe is getting darker and colder, imagine sliding your boat off the white sandy beach into the clear blue waters of the Indian Ocean. Bask in the warmth of the tropical sunshine as the palm trees fade in the distance while your dinghy or catamaran picks up the pace.
Call us now for the sailing holiday experience of a lifetime!
Please call us on +230 57357370 | outside Europe +30 6978777014
Read more

What makes a Wildwind sailing holiday on Mauritius so special?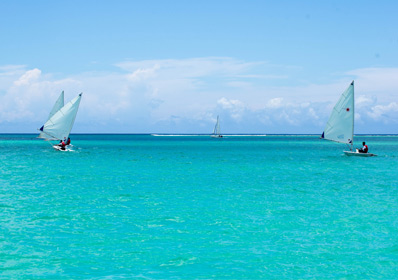 Amazing tropical sailing conditions
Mauritius is much more than just a sunny destination, it is a sailors' paradise!
It's a great feeling to be sailing and enjoying perfect sunny weather while at home the days have turned cold and grey. The conditions here are a perfect balance: the bay outside the hotel and inside the reef is calm and totally safe for beginners and for those who want to work on their skills in a controlled environment, while our expeditions outside the reef and our sail-aways and long distance raids to wonderful deserted beaches and offshore islands are an experience that you'll remember for the rest of your life. The winds are generally Force 2-4, with totally flat water inside the reef, and more wind out to sea with a long swell. These are fantastic conditions for surfing catamarans and dinghies down the face of long evenly spaced waves that, like you, have travelled thousands of miles to be here.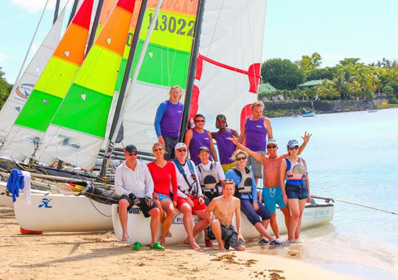 Friendly local and European instructors
Wildwind has more than 30 years' experience organising sailing holidays for guests at our flagship base in Greece, with our instructors receiving praise and plaudits every week of the season. As you'd expect, we are an RYA recognized sailing centre, guaranteeing you the highest standards of safety and teaching.
In Mauritius we have combined our expertise with the unique knowledge of the local sailors to create the best possible experience for you: on and off the water. Instruction is tailored to your needs – there isn't a weekly group programme as at our Greek base. To facilitate this the instructor to client ratio is 1 to 4 at Wildwind Mauritius.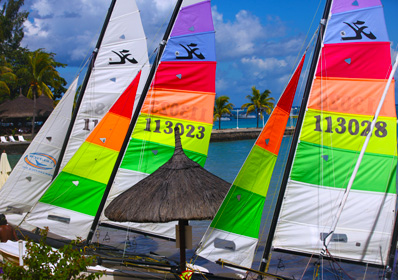 Great sailing equipment
Our dinghy fleet ranges from Lasers (all rigs), Laser Picos and Laser 2000's to high performance trapezing RS 200 and RS 500's. On the catamaran front you can choose from 18 foot Hobie Pacifics or Hobie 16s LE Race if you want to use their spinnakers on the rolling downwind waves outside the reef. We also have Hobie 15s and Hobie 14s. There is also a fleet of windSUPs, a cross between a stand-up paddle-board and a windsurfer, so you can take a leisurely paddle out to the reef in the morning and see an enormous variety of tropical fish, or, when the wind picks up, simply add sail and mast and go planing across the bay. See the entire fleet
Latest news and specials...
Vote for the British Travel Awards - £40,000 of holidays to be won!
Does winning a £1,500 to £4,000 holiday voucher, pair of British Airways return World Traveller tickets, long weekend use of a Jaguar F-type cabriolet or a sailing holiday appeal? Wildwind have been nominated for a prestigious British Travel Award for Best Sports/Activity holiday and we need your votes to win!
Read more
Meet Wildwind at BOOT 2019 in Düsseldorf
Lilian and Peter from Wildwind can be found in hall 15 G 21, near Prosail
Read more
More news